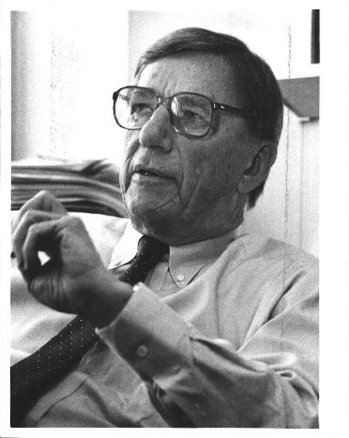 Ann Arbor lost a former mayor and longtime University of Michigan professor when Samuel Eldersveld died Friday of congestive heart failure. He was 92.
Samuel J. Eldersveld was a former mayor of Ann Arbor, a longtime professor of political science at the University of Michigan, and the author of Political Elites in Michigan Societies as well as the focus of the edited volume Comparative Political Parties and Party Elites, edited by Birol A. Yesilada.

For almost 60 years, Eldersveld was a mainstay at the University of Michigan Department of Political Science. He also played a key role in the resurgence of the local Democratic party in the post World War II era.
Eldersveld grew up the son of a minister in Muskegon. He went on to earn his undergraduate degree from Calvin College in 1938 and master's degree in political science in 1939 from the University of Michigan. On the encouragement of his advisors, he entered the Ph.D. program.
Then World War II came calling, and Eldersveld served as a lieutenant, encoding and decoding communiques in the Philippines.
Eldersveld returned from World War II to Ann Arbor in 1946 to finish up his doctorate studies. According to his memoirs, Eldersveld took an interest in local politics because he thought he could wind up teaching a class on U.S. political parties at some point.
Soon the young professor was taking up leadership posts in the local Democratic party, a party that had little success attracting voters.
Things looked particularly bleak for the Democrats going into the 1957 mayoral election. Ann Arbor hadn't elected a Democratic mayor since Edward Staebler in 1929.
Eldersveld was on the recruitment committee for candidates, but found no one willing to take on the Republican incumbent, William Brown, who had been in office since 1945.
Finally, a party leader asked Eldersveld to throw his hat in the ring. He did, fully expecting to lose.
But when the votes were counted, Eldersveld had been elected mayor of Ann Arbor.
Governance had its challenges. Not only did the job not pay much, requiring Eldersveld to retain his position at the university, but Republicans still controlled the city council.
One of Eldersveld 's accomplishments was establishing Ann Arbor's Human Relations Commission in 1957. Black residents of Ann Arbor, Eldersveld recalled in his memoirs, had difficulty finding and financing quality housing – all but the north central portion of town was off-limits. The commission, known since 1970 as the Human Rights Commission, is still in existence today.
But the unsustainable routine, coupled with political gridlock, convinced Eldersveld it was time to move on. Local Democrats hoped he could take the party to new heights, with some urging him to run again for mayor and others pushing for a bid for Congress. The university even offered to lighten his teaching load, but Eldersveld's mind had been made up. Back to the university it was.
Eldersveld's career at U-M began to take shape in 1964. Not only did his book, "Political Parties: A Behavioral Analysis," win Princeton University's prestigious Woodrow Wilson Foundation Award for the best book on politics and government, but he was named the chair of the U-M political science department. He stayed in the position through 1970, bringing approximately 30 new scholars into a department that was thinning on talent.
Lucy Murphy, his daughter, said the key elements in Eldersveld's longevity were quitting smoking, which he did in 1970, and cutting down his sugar intake.
Another was his affinity for Ann Arbor, Murphy said.
"Dad absolutely loved Ann Arbor," said Murphy, who is an instructor at Ohio State University. "He had chances to take opportunities elsewhere, but he really enjoyed the town and never wanted to leave," outside of his work-related travels.
"The University of Michigan doesn't give very many perks to the mayor," Murphy said, "but dad was given 50-yard line tickets for football games. U-M kept him in those seats even after he had left office. He really embraced the university and the community as a whole."
Murphy said football Saturdays at Michigan Stadium were some of the family's fondest memories.
In 1985, the professor, nearing 70, was at a gathering of the Netherlands America University League when he met Els Nieuwenhuijsen, who was earning her master's degree in public health.
Samuel, divorced at the time, and Els dated for 15 years before marrying in 2000. Els was there for his latter years, helping make sense of his handwritten notes – all 22 of his books were written on yellow legal pads first – and locating books on tape when his eyesight faltered.
Eldersveld's name lives on. The main conference room of the political science department bears Eldersveld's name, as does a prestigious collegiate professorship at the university (once the current fellowship, held by Professor Mark Tessler, expires, it will lose the Eldersveld name, as the honor is reserved for retired professors who maintain an affiliation with the university).
Former students dedicated a compilation of essays – "Comparative Parties and Party Elites" – to Eldersveld in 1999.
In 1986, the American Political Science Association gave Eldersveld perhaps his highest honor, when it not only awarded him its inaugural career achievement award but named the distinction in his honor as well.
Eldersveld held two of his last projects in very high esteem, his wife said.
In 2008, Eldersveld published a reflection on his career, "The memoirs of Sam Eldersveld: His family history and his career in political science at the University of Michigan." That volume is available at the Bentley Historical Library.
And just two days before he died, Samuel was able to see a manuscript of what will be his last book, tentatively titled "Religion and Politics: How the U.S. can become great again." The book is an homage to the way Eldersveld was brought up.
"I think, in some ways, he was waiting to see the book completed," Els said. "Then he could know his work was done."
Els said the family will likely self-publish Eldersveld's final work.
Eldersveld is survived by his wife, Els, his children, Lucy (Eldersveld) Murphy and Samuel K., grandchildren Bethany Murphy Gomez and Colin Murphy, and great grandson Finnegan Murphy.
His memorial service will be held on Saturday, March 13, at 3 p.m., at St. Andrew's Episcopal Church in Ann Arbor, where Eldersveld was a longtime member.
Comparative Political Parties and Party Elites
Essays in Honor of Samuel J. Eldersveld
Birol A. Yesilada, Editor

Cloth (Available):
978-0-472-10992-0
$80.00
Political Elites in Modern Societies
Empirical Research and Democratic Theory
Samuel J. Eldersveld

Cloth (Available):
978-0-472-08094-6
$60.00